How to Make Your Own Sound on TikTok
How to Make Your Own Sound on TikTok
Ashley Mathews
Can't find the right song in the TikTok music library? Here's how to add any song you want to your TikTok videos, all in your phone's browser.
TikTok only gives you two options for music or audio: you must either select music from TikTok's on-app music library or use the video's original audio track.
To use any other music, you have to go elsewhere to add your own, original sound to your video. If you're not used to using easy and efficient software, this can take a long time, especially if you like to post on TikTok frequently. Thankfully, it's not too difficult – let me show you how:
Upload Your Video(s)
Add/Adjust Audio
Download
Stats About Audio's Contribution to The Rise of TikTok
The fundamental aspect of TikTok is that it helps drive higher engagement rates. To understand just how big audio is to the platform, TikTok partnered with Kantar – the world's leading data, insights, and consulting company – to reveal some interesting facts:
88% of TikTok users say that sound is essential to their TikTok experience
73% of users say that they stop and pay attention to ads on TikTok that come with audio
TikTok is the only social media channel where audio raises purchase intent and brand favorability
Be it any other platform, I would have recommended adding captions and using other ways to generate interest in your video. On TikTok, that's way less effective.
Audio rules the roost here.
According to the research led by TikTok, users are more receptive to sound within the ads than they're on other platforms.
Users say that the sound they experience on TikTok is fun at a 66% higher rate compared to other similar platforms.
According to TikTok, sound is anti-scroll and helps audiences hear and feel what you're saying.
In order to capitalize on this, here's what brands must do on TikTok:
License popular audio -TikTok places many restrictions on the sounds brands can pick and use from within the app. But brands are free to create licensing agreements for audio from independent creators. This gives them access to broader trends
Amplify branded sounds – Brands can also create audio and use that as a promotional tool within the app
Create new sounds – Brands can also create new sounds and use that for promotions within their TikTok marketing campaigns
As the world went on lockdown during the pandemic, TikTok became the new form of entertainment. Everything was in its favor, starting from the user interface to the byte-sized 60-second long videos. This enabled the creators to rope in audiences from all across the globe.
The platform has delivered. And as a result, TikTok saw its user base multiply by many multiples during the pandemic.
Now let's get to the fun part, adding your own sound!
How to rename your TikTok sound
If you want to make sure your sound is simple to remember so that people can easily search and find it on the app, you may want to think about renaming it.
Fortunately, renaming your sound is a simple process. Simply do as follows:
Go to your sound by clicking on the video you made it with, and then tapping the spinning record icon in the bottom right.
At the top of the page by the name of your sound, click the small pencil icon.
On the next page, type whatever you want to call your sound in the 'Enter a sound title' area. TikTok warns that 'titles can only be edited once.'
Then, tap 'save.'
Now that you know how to create your own sounds, it's time to go viral!
Most viral sounds on TikTok videos are quite generic and easy to loop.
If you want your original sound to go viral, make sure to:
Have minimal background noise
Make it loopable
Make it catchy.
Minimal noise. A phone's microphone is not the best there is, so the less noise there is, the better it'll sound.
Make it loopable. The way TikTok works is that, the easier it is to use, the more TkTok users will use your audio.
Make it catchy. Think of the Squid Game audio. It's in Korean, it's sort of a "song" but it doesn't feature music. Yet, it broke every language barrier in the world and it became super popular.
Next time you create a new video, try to follow our advice.
Ways to Record Your Own Sound on Tiktok
You have two options on how to record your own sound on Tiktok. One way is recording a sound to your Tiktok video within the app or the existing platform, and the other one is using a third-party app.
Adding a Sound Within the App
Adding sound within the Tiktok app is one way on how to record your own sound on Tiktok. You also get to express yourself through its different effects and by adding your preferred music. Here's how to do it:
Given that you've already done recording your TikTok video, you can proceed with tapping the "Sounds" option on the bottom-left corner of your video.
Select a song of your choice from the provided list. If you want to see more song options than the recommended list, tap the "More" option, and you will see the full music menu.
Choose which part of the song or music you prefer to play in your video. It is easily done by clicking and dragging the soundwaves at the bottom to the left or right. When you're done, you can tap the checkmark.
Finally, finish uploading your video with the usual process.
Adding a Sound Using Third-party App
Using a third-party app is a convenient way on how to record your own sound on Tiktok. Keep in mind that your audio must be original because when you add copyrighted music, its sound will be automatically removed from your Tiktok video. Here's how to do it:
On your smartphone, downloaded and opened the app InShot Video Editor.
Tap the "Create New" option and "Video."
Choose the video that you're going to upload in your library or gallery.
Tap the "Music" button as you scroll back to the left.
Select the "Tracks" option so you can add sounds from your phone.
You can edit the track by tapping the editing menu at the bottom of the screen. Select the "Edit" option on the above toolbar.
As you edit, you can trim the sound clip, adjust the volume, and apply fading effects. Tap the checkmark found beside the track's name once done.
On the editing menu, drag your edited song clip around above your video clip. Make sure to put it where the song starts at your Tiktok video.
Once done, choose the "Export" button at the top-right of the screen and save it.
Select the TikTok icon to upload the video directly to TikTok; tap the "Share to TikTok" option and upload your video.
How to Record TikTok Voiceover
The Tiktok app has an integrated built-in voiceover feature so you can talk over a sound on TikTok. You can do it when uploading videos from your phone or when you're recording a video directly through the app. It doesn't matter whether you're using iOS or Android Tiktok app versions. Here are steps to record your voiceover:
On your Tiktok app, select the plus sign icon located in the bottom center.
Select the red "Record" button to record or upload a video through the app.
Preview your recording from your device and select the "Next" option.
Choose the "Voiceover" option located at the upper-right side of the screen.
Tap the "Record" button and start recording audio over your video.
Once done, with the voice narration, choose the "Save" option located on the top right and add any extra edits or effects.
When you want to adjust the volume of the sounds in your videos, tap the "Sounds" option at the bottom and edit the volume.
How to Add Your Own Sound to TikTok Using Third-Party Apps
This part will show you four apps to add your sound to TikTok videos on Windows PC, mobile phone, and online. Don't miss those tutorials if you want to know how to upload a sound to TikTok.
#1. How to Make Your Own Sound on TikTok with EaseUS Video Editor (for Windows PC)
EaseUS Video Editor is an all-in-one video editor for Windows PC. As it's designed for beginners, the operation is so easy that you only need to click some buttons to create a perfect video. In addition, this program provides plenty of video editing tools, such as adding transitions, overlays, elements, music, and filters to your videos, which can satisfy all your editing needs. Using this software, you can add text to video, import your own sound or music, and add it to your video.
EaseUS Video Editor
Easy & smart video/audio editing software for beginners
Record and add voiceover to videos easily
Support 300+ effects and transitions
Support a lot of file formats, such as MP3, MP4, MOV, etc.
Audio mixer software for Windows users
Trusted by TechRadar, Fstopper, etc.
Editing a video on a mobile phone is convenient, but most video editing applications on phones lack advanced editing tools. EaseUS Video Editor can offer you various tools you need, and it's straightforward to use, even for beginners. Moreover, people who want to remove a watermark from a video can utilize any one of the best free video editing software no watermark to achieve this goal.
How to Upload Sound to TikTok with EaseUS Video Editor:
Here are the steps to add your own sound to a TikTok video using EaseUS Video Editor.
Step 1. Launch this video editor and select an ideal aspect ratio.
Step 2. Drag and drop to import your video and audio into this video editor. Right-click the video and select "Add to Project" to add it to the timeline.
Step 3. Drag to add the audio into the timeline and sync it with your video. If you want to record your own sound and use it as a voiceover, click on the "Dubbing" button and record your own sound.
Step 4. Click on the "Export" button when you want to save the video with audio. Adjust the settings, including file name, save path, video format, and video quality. Finally, click on the "Export" button.
#2. How to Upload a Sound to TikTok with Kapwing (Online)
If you do not want to download or install any software on your computer, why not try an online tool. Kapwing is the best choice. This program is a free online video editing software, and you need to create an account that you can free to use. Using this software, you can create images, videos, and GIFs.
Although Kapwing is an online tool, this program provides many video editing functions to satisfy your editing needs. In addition, this website nearly supports importing all types of file formats that you can this app edit your perfect video and then save it to share on YouTube, TikTok, Facebook, and other platforms.
Features:
Support editing and uploading your sound to TikTok, YouTube, and more platforms
Support plenty of video and audio formats
Support adding text, music, and more operation to video
Support free to use
How to Make Your Own TikTok Sound Online with Kapwing:
Step 1. Find video and sound that you want to use, and then import it into Kapwing. If you want to use a video or sound on YouTube, SoundCloud, Facebook, and other platforms, you also can copy its link to Kapwing.
Step 2. And then use the editing tools to edit your video and sound. Such as adding text, adding images, adding effects, and more operations.
Step 3. When you finish the editing, click the "Publish" button to export your video and sound. And then, wait for a minute that you can choose the "Download" button to save it to your device.
Step 4. In the end, share your video and sound with TikTok.
#3. How to Upload Sound to TikTok with InShot (Android)
We have already introduced the best third-party app on PC and Online. If you ask me what is the best editing app on my phone. Here I list two perfect apps for Android and iOS.
InShot is a video editing app for Android, which is easy to use. This app provides many video editing functions; for example, you can use this app to trim and cut your video, blur the background, add music and video effects, and more. The best part of this app is that you only need to click a button. The video will directly share on YouTube, Instagram, Facebook, and other more platforms. It also supports editing videos with music for TikTok.
Features:
Support adding text on video, and many fonts for the text editing
Support speeding up the video or adding slow motion
Support editing and uploading video and sound to TikTok
How to Add a Sound to TikTok Using InShot:
Step 1. Install this app on your phone and open it.
Step 2. Click the "Video" button to select a video you need and click "Check" to apply. And then tap the "Crop" button to select the correct aspect ratio and apply it.
Step 3. Tap the "Music" button to select music and click the " Use" button to drag it into the video.
Step 4. When you finish the operation, click the"Check" button to save your video and share it with TikTok.
#4. How to Add Your Own Music to TikTok with BeeCut (Android & iOS)
BeeCut is designed especially for video editing beginners that can be used for Android and iOS users. This app provides many useful editing features, including filters, cropping, cutting, and other more editing tools you can use to create your TikTok video. And this video editing software supports editing videos with 16:9, 4:3, 1:1, and 4:3 aspect ratios. In addition, you can share your edits to YouTube, Facebook, TikTok, and other social media.
Features:
Support uploading your sound to TikTok
Support editing multiple timeline layers
Support free to use
The steps of uploading sound to TikTok using BeeCut:
Step 1. Launch this app and tap the yellow-scissor icon in the interface to import your video.
Step 2. Select the correct aspect ratio and click the "Music" button to upload music to your video.
Step 3. When you finish, click the "Export" button to export and save your video on your phone.
How to make a TikTok sound using InVideo?

Step 1: Sign-up for a free InVideo account if you haven't already! We have trending TikTok templates you can start with or if you want to add text and music to an existing video, simply start with a blank canvas. To do this, simply select the "Blank Canvas" option and make sure you select the 9:16 aspect ratio for your TikTok videos. Now click on the "Make a Video" button.
Step 2: You'll be taken to InVideo 's editor. Click on the 'Upload Media' button to upload your video to the editor and a dd the music track of your choice (by uploading it) or you can also browse through our in-built media library for royalty-free music.
Step 3: You can also add a VO to your TikTok video . To do this you can either upload an audio file or record your voice-over in real-time.
You can also use the automated text to speech feature that will convert any written text into spoken words. With InVideo, you can choose from different voice options as per your need.
Step 4: Once you have recorded the audio or used the automated text-to-speech, you can then reduce the volume or add a fade-in and fade-out effect. You also have the option to trim the VO, duplicate it, or add it on repeat as a loop.
Another super cool thing you can do on InVideo that is not possible on TikTok and may not give you a smooth edit, is timing your scenes to the background music and voice-over. Since the VO and audio track get added to separate timelines, you can easily trim your VO and have it placed as you'd like on the video along with the background music.
Step 5: Once you're satisfied with your edits, simply click on the 'Download & Share' button and then click on 'Export'.
Your video will now start to render and you can download it after it has been exported.
Now all that's left to do is upload this video to TikTok . The app will consider the audio as an original sound and it can be reused by you for other videos as well as by other creators.
If you don't want to post the original video right away, you can save it for later by uploading it as a private video.
Make viral TikTok videos in minutes
Using trending InVideo templates
Get started now
Why Add Your Own Sound to TikTok?
The easiest answer to how to make a sound on TikTok is to use the app's built-in music library, which is quite extensive and might actually be enough for all your needs. Another thing you can do is to record a voiceover to add your unique sound using the app as well.
You might also think that it's now impossible to upload your own sound to TikTok, but that's not true. You can't add a song to TikTok from within the app if it's not in its library, but you can still use third-party apps to do so. Here, we'll cover all these use cases.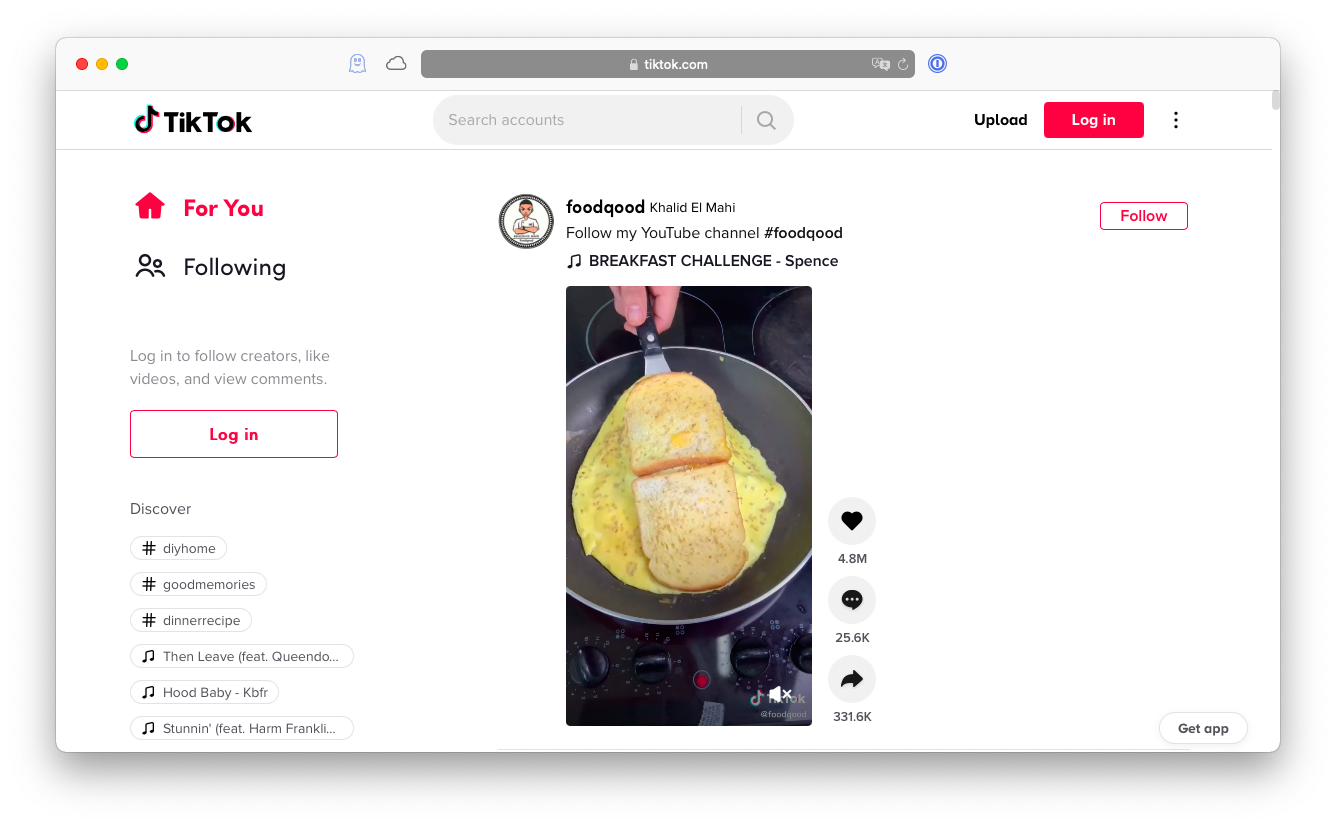 How to make a TikTok sound in the app
To make your TikTok videos catchy, fun to watch, and easy to share you need a good soundtrack, no doubt. The good thing is that it's more likely than not that you'll find what you're looking for in the vast library of music and sounds provided by TikTok itself.
Here's how to add a song to TikTok from the in-app library:
Record your TikTok video just as you usually do
Tap Sounds in the bottom-left corner
Select a song or a sound from the list. If you can't find what you're looking for, tap More.
Drag the audio wave to trim music on TikTok and select the part of the song you'd like to add to your video
Finish uploading your video as normal
How to add a voiceover on TikTok
Talking over any sound in TikTok offers so many other creative directions for you to personalize your videos with unique audio.
Download audio on Mac
Need an audio track from the internet? Pulltube is a great one-click solution to download video and music on Mac.
You can use voiceovers whether you're recording videos directly through TikTok or uploading them from somewhere else.
Here's how to record a voiceover in TikTok:
Record or upload a video in the app
Tap Next and select Voiceover in the top-right part of the screen
Long-press or tap Record to capture your voice or the surrounding audio over the original one. You can also check or uncheck "Keep original sound".
Tap Save, finish your edits, and post your video
Note: To adjust audio levels for your video and make sure the voiceover sounds great, tap Sounds ➙ Volume in the bottom panel.
How to upload your own sound to TikTok
As much as you try to leverage TikTok's sound library, if you create a lot of videos, you'd really benefit from personalization. All the true viral content today is about something no one has seen yet. To be really unexpected and create videos people want to watch over and over again, you need to take full creative control over your sound.
Note: TikTok took away the ability to add any music internally due to the excessive amount of copyright claims. This also means that you have to upload original audio to avoid being removed from the platform.
You might've seen some mobile sound editor apps on the App Store or Google Play promising to let you add any sounds you want, but in reality for complete audio control you should use a professional Mac app.
n-Track Studio is a multi-track music recorder for studio-quality audio mixing and editing. Accessible even to complete beginners, this app is everything you need to record and trim music on TikTok. Some features include a large built-in library of effects and instruments, easy original sound recording, straightforward music editing, and customizable audio output.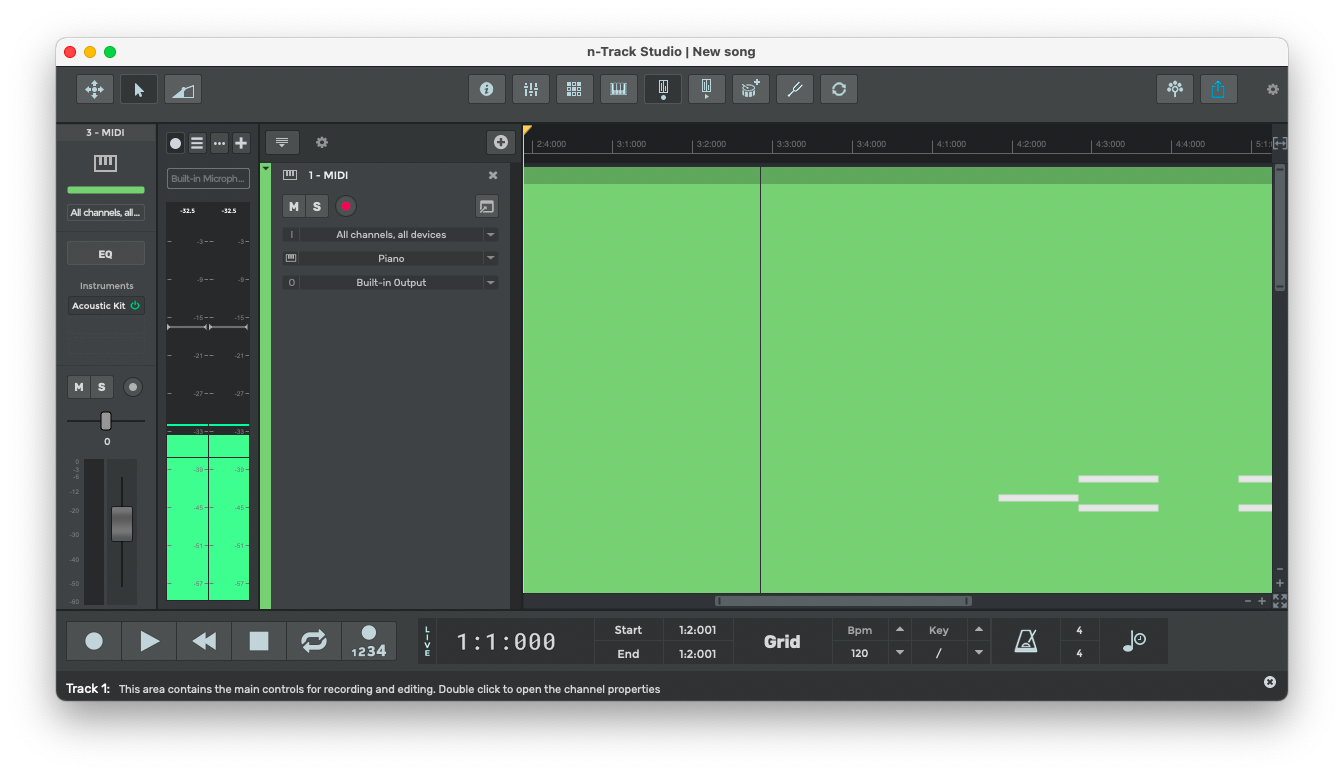 It's possible to use n-Track Studio not only to record your original audio but also to significantly edit or remix an existing song, for example, which you can download using PullTube.
PullTube is a universal media downloader that seamlessly captures video and audio on any website, from YouTube to Vimeo to SoundCloud. Just find the URL of any media file you want downloaded and paste it right into the app. Select the best format and click Download. You're done!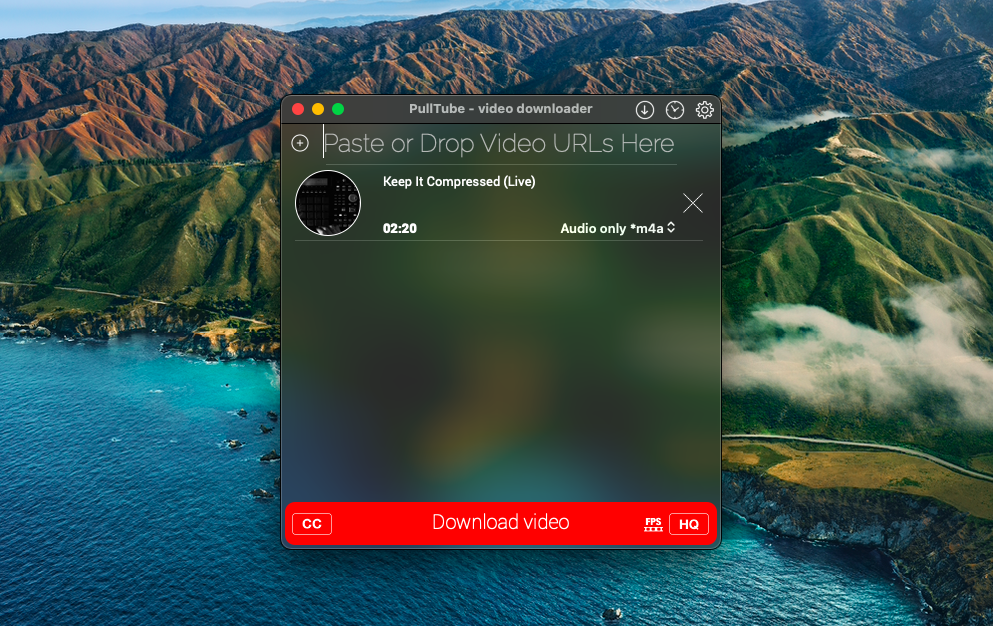 Now you can transfer the audio you've downloaded with PullTube to n-Track Studio for some trimming and light editing. To complete your creative experience, you should also consider editing your video right on your Mac as well instead of TikTok by using CameraBag Pro.
CameraBag Pro is a powerful video and photo editor without any complex workflows and lengthy instructions. Just drag and drop your video onto the app, preview dozens of high-quality filters, and apply and adjust them as needed. You can even make multiple changes at once, to get the same feel from a video series, for example.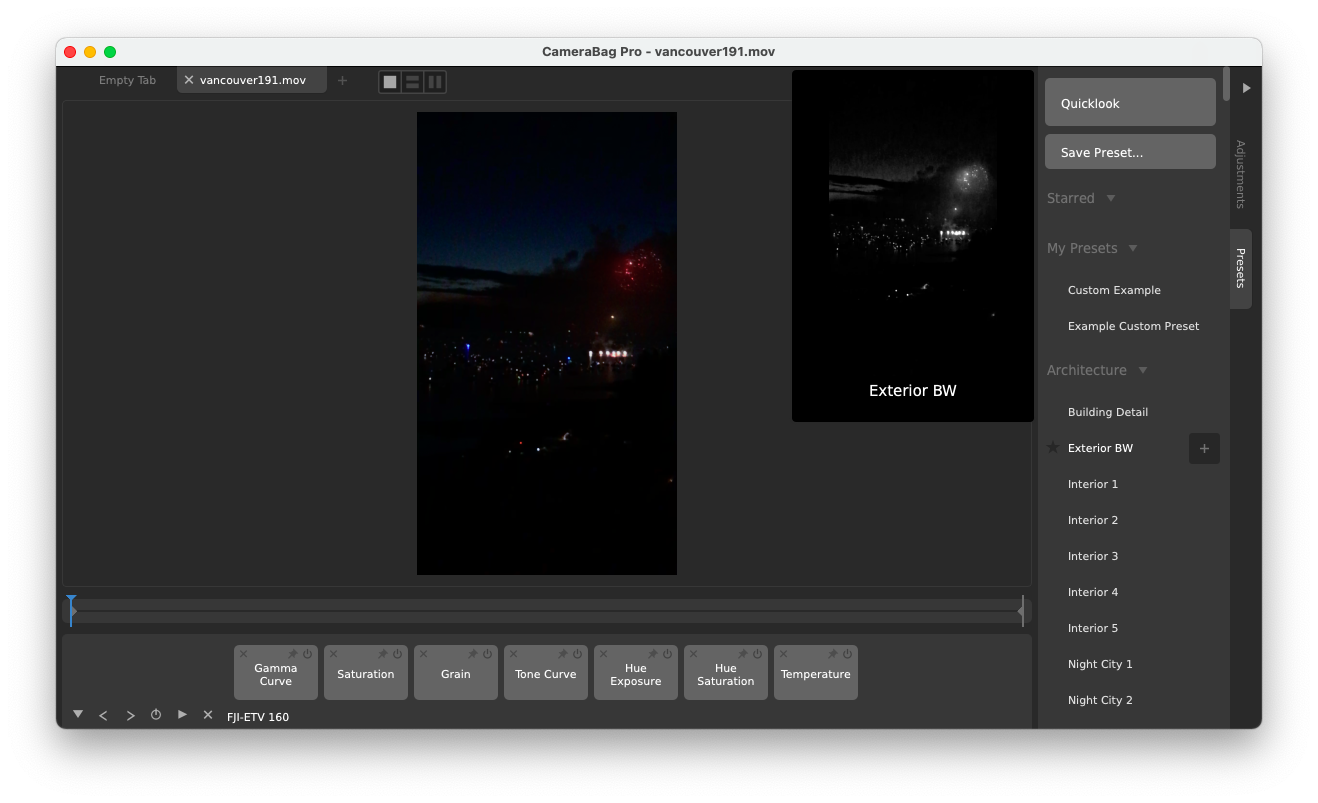 When you have your perfect audio and video ready on your Mac, you need to transfer them back to your phone to upload to TikTok. The most seamless way to do so is to use AnyTrans for iOS or AnyDroid if you have an Android phone.
AnyTrans and AnyDroid are two powerful smartphone managers for your Mac. You can use them to transfer any media, including audio, video, and photos, back and forth between your devices. You can also sync the latest backups, seamlessly switch all data to a new phone, download any apps, and more. It's by far the best way to get your newly created TikTok video and audio back to your phone.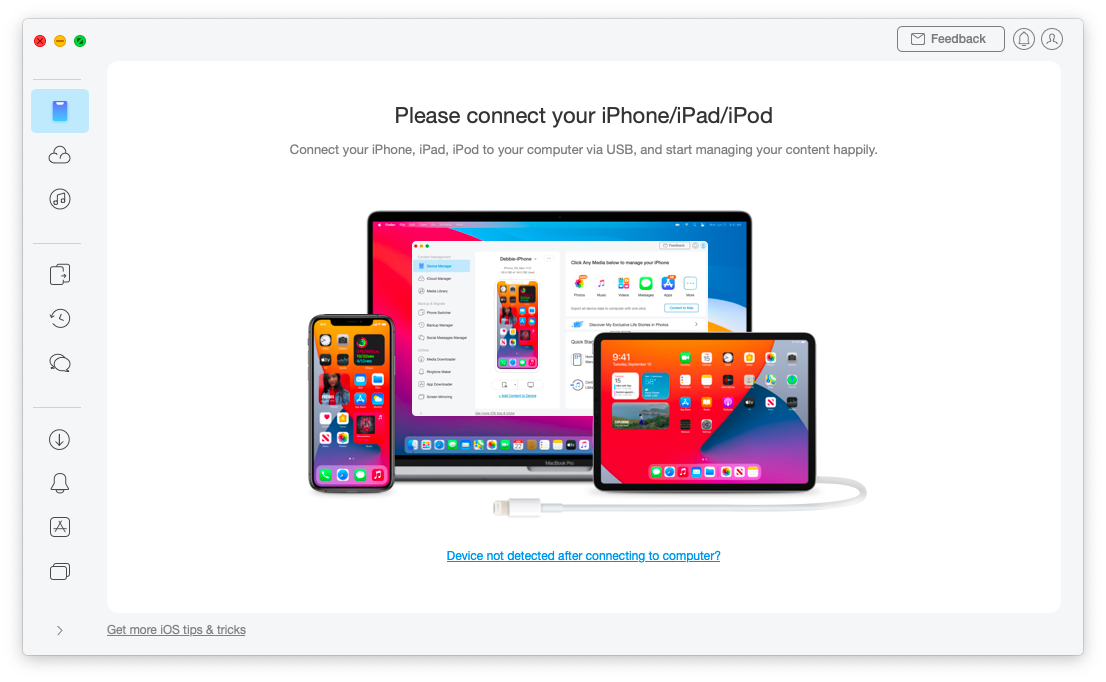 The key to TikTok success
As you can see, it's not difficult to learn how to make a sound on TikTok — you just need the right tools to do so. Start with n-Track Studio for audio editing, use PullTube to download any tracks to use as your foundation, make the video you want with CameraBag Pro, and transfer it all back to your phone with either AnyTrans or AnyDroid.
Besides, remember that the most important part of any video is the actual content. So strive to stay a bit weird and unusual. Show your followers something they've never seen before. At the same time, make it quick and easy to rewatch and share.
All the apps you need — n-Track Studio, PullTube, CameraBag Pro, AnyTrans, AnyDroid — are available to you absolutely free with a seven-day trial of Setapp, a platform with more than 210 high-quality Mac apps for any task you can imagine. Try every Setapp app at no cost today and unleash all of your creativity.
How to Do a Voiceover on TikTok
The app incorporates a built-in voiceover feature that lets you talk over a sound whether you're shooting a TikTok video directly through the app or uploading videos from your device.
Follow these steps to use the tool to record audio, such as music playing from your phone or your own voice narration over the video.
Open the TikTok app and select the plus sign icon in the bottom center.
Record your video through the app by selecting the red record button or upload a video (or several videos) from your device by selecting Upload and choosing the video(s).
After you've finished recording or selecting your videos from your device and are happy with the preview, choose Next.
Select Voiceover in the upper-right side of the screen.
Get your audio ready, and then tap or long-press the record button to start recording your surrounding audio over your video. Select or clear the Keep original sound checkbox in the lower-left corner as desired.
Tap record to record over the entire video. Long pressing is ideal for starting and stopping the recording if you don't want your surrounding audio recorded over the whole video. Move the white video marker along the timeline to record over a specific part.
Tap Save in the upper-right corner and continue adding any extra edits or effects.
Adjust the volume of your videos sounds by tapping Sounds at the bottom followed by Volume.
How to add a sound to TikTok from the in-app music library
If making your own audio isn't your thing, TikTok has a substantial in-app music library to choose from.
1. Open the TikTok app. Tap the plus + icon at the bottom of the screen to create a new video.
2. Tap the red circle on the bottom of the screen to record a video. When you're finished recording, tap the red circle again, then tap the red checkmark on the bottom-right of the screen.
3. Tap the Sounds icon at the bottom-left of the screen.
4. Tap to select a sound from the Recommended list, or tap More to search for additional sounds.
5. Tap the snipping tool, then drag the audio clip left and right to pick the section you want to include. Tap the red checkmark when you're finished.
6. When you're finished adding sound, tap Next.
7. Post your TikTok by tapping Post.